The preschool class spends time with foreign teachers and friends that allows them to communicate in English.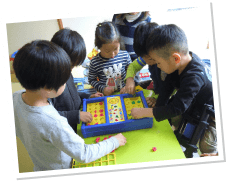 Preschool class is from 1 year 5 monthsoid. In the preschool class we are teaching a standard based curriculum in an early childhood educational environment. However, we are not only teaching English, but also we take into consideration how a child's brain works and constantly provide intellectual activities that stimulate their five senses. By doing this we help them to develop the areas of their brains that are responsible for language and congnitive function.

We hope that we will be able to help your child immerse his/her self in every activity so that they will grow with each choice he makes in the future.

Please book a free trial lesson and experience our lesson.
We are one of the best outing schools in Japan. We go to more than 60 different fun places each year. Your child's English and communication skills will be fostered while playing and enjoying nature.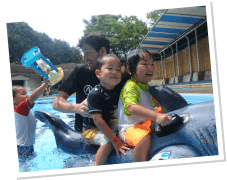 Outing list
Tamagawadai Park, Seseragi Park, Tama River Side Park, Tama River Bank, Tokusho Park, Heiwa Park, Pudding Park, Haginaka Park, Komukaidaiichi Park, Tire Park, Todoroki Park, Shimomaruko Park & Pool, Rinshinomori Park & Pool, Mokki, Tsunashima Park & Pool, Oda Park & Pool, Tama River Side Hike, Ikegamiiki Park, Tokumochi Park, Higashichofu Park & Pool, Minamigawara Park, Mitsuike Park, Dinosaur Park, Hourai Park, Omorifurusatonohamabe Park, Noge Park, Miyuki Park, Toshiba Science Museum, Nakakamata Park, Kugahara Potatoes Field, Razona Kawasaki Park, Ebara Chuou Park, Hiratsuka Park, Denenchofu Minami Park, Yoneyama Pet Shop, Samezu Park, Yotsuya Fire Museum, Obi Yokohama, Nishikamata Park, Yumemigasaki Zoo Park, Futakotamagawa Park, Shinagawa Aquarium, Minemachi Gymnasium, Fukushi Park, Yokohama Cosmo World, Disney Sea, Kodomonokuni, Tsukushino Athletic course, Nakahara Library, Oguranishi Jido Pool, Yokohama Blueberry Field, Kawasakishiminplaza Park.
Daily Schedule
~09:00

Long stay course arrival time & free play

09:00~09:20

Regular course arrival time & study time

09:20~09:30

Free play time

09:30~10:30

Circle time and daily activities

10:30~12:30

Preparation for outside activities & play time

12:30~13:20

Lunch time
13:20~13:55

Separate individual class time

14:00~14:20

Regular Course pick up time

14:30~16:00

Long Stay Course afternoon lesson

16:00~18:00

Snack time & free play extra lesson

18:00~20:00

Long Stay
Our rules are basic school's rules. We use car and trains on a daily basis. We are going out to Yokohama and Kawasaki parks, factories and museum tours. Children has a chance to go outside to play depending on the weather by car and trains.
Photos
Class Requirements
Age

1 year old and 5 months - 6 years old - We are accepting babies who are able to walk by themselves or run, since we are one of the best outing school in Japan.

Day

Monday - Friday

Time

Regular Course 〔9:00-14:20; 5 hours 20 minutes〕
Long Stay Course 〔10 hours 20 minutes〕

Term

3 terms / year
We also offer extended classes, as well as brother(s)/sister(s) sitting- services.
Fees
Entrance fee

¥70,000 - 1 time only

Insurance fee

¥1,200 - Update yearly every April.

Maintenance fee

¥10,000 - 1 family / 1 term.
Monthly Fees
Regular Course [ 9:00 - 14:20 (5 hours 20 minutes) ]
2 days / week

¥68,000-

3 days / week

¥73,000-

4 days / week

¥81,000-

5 days / week

¥87,000-
Long Stay Course [ 9:00 - 19:20 (10 hours 20 minutes) ]
2 days / week

¥96,000-

3 days / week

¥109,000-

4 days / week

¥122,000-

5 days / week

¥135,000-
For the long stay course, you can set the start time, at your convenience.
Entry Procedure

School visit and interview


1 day free trial lesson

<!- -->

Application for mwmbership
For those who are interested, please schedule to visit, watch the lesson and interview. If you are interested to join you can schedule for free trial lesson, after the trial lesson if you think of joining our school, please let us know when do you want your kids to start then we will discuss about details things.
Notes
The insurance and extended fees are tax exempted.
Materials fee, maintenance fee, transportation fee, entry fee for each facility, snacks for the long stay course and extra classes are all included in the regular fee.
To schedule for an interview or free trial lesson, please contact us via telephone or inquiry form.
Changing the days of the week and the number of days taken can be done on a monthly basis. In that case, please confirm until 20th of the previous month is necessary. In addition, leave of absence is possible on a monthly basis, please give us 30 days advance notice.
Please understand that there may be cases where we may refuse admission after interview and free trial lesson
Brothers, sisters, discount service for the second child and subsequent discounts are available.
Brothers and sisters sitter service are also available
If you have any other questions, please contact us via phone or inquiry form.