Beginners and returnees can improve their English levels, no matter what their age or current language.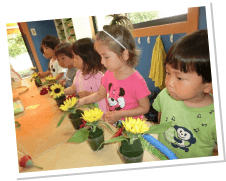 This class is designed for kids from 2 years old, but we are pleased to make an exception if your children can walk by themselves.
Class Time Table
Monday

[A1]: 14:30~16:00、[A2]: 16:30~17:30

Tuesday

[A1]: 14:30~16:00、[A2]: 16:30~18:00

Wednesday

[A1]: 14.30~16:00、[A2]: 16:30~17:30

Thursday

[A1]: 14:30~15:30、[A2]: 16:00~17:30

Friday

[A1]: 14:30~16:00、[A2:]: 6:30~17:30、[A3]: 17:45~18:45
Classification of children depending on their English levels and age. Classes includes a wide range of vocabulary, to encourage students to become more active to use new vocabulary when speaking and writing.
Please contact us for more details.
Photos
Class Requirements
Age

2 years old

Days

Any days from Monday – Friday

Time

14:30~
We offer extension classes for students who stay longer.
Fee
入会金

¥10,000- 1 time only.

Insurance fee

¥1,200- yearly every month of April.
Monthly Fees
1 hour class
1day/week

¥12,000-

2days/week

¥23,000-

3days/week

¥34,000-
1 hour 30 minutes class
1days/wee

¥15,000-

2days/week

¥29,000-

3days/week

¥42,000-
Classes are different depending on the day of the week, time, level and age. Sometimes we combine classes together to develop their social skills.
Flow of Admission:

1 day free
trial lesson


Application
for membership
For those who are interested in our school, we recommend that you book a free trial lesson, first, after your child participates the lesson, and you are satisfied with our school, please feel free to apply for admission.
Notes
The insurance and extended fees are tax exempted.
Materials fee, maintenance fee, transportation fee, entry fee for each facility, snacks for the long stay course and extra classes are all included in the regular fee.
To schedule for an interview or free trial lesson, please contact us via telephone or inquiry form below.
Changing the days of the week and the number of days taken can be done on a monthly basis. In that case, please confirm on or before 20th of the previous month is necessary. In addition, leave of absence is possible on a monthly basis but we need 30 days advance notice.
Please understand that there may be cases where we may refuse admission after interview and free trial lesson
Brothers, sisters, discount service for the second child and subsequent discounts are available.
If you have any other questions, please contact us via phone or inquiry form.