Summer school provides lessons and activities during the summer vacation.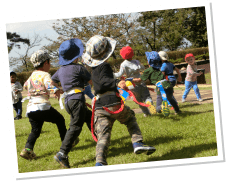 This is limited class from 2 years old to elementary school students.

Five days of spending time with foreign teachers and friends will be fun and exciting.
It would be their precious memories that they could only experience here.

Visitors' students could also avail our seasonal class.
Application Requirements
Age

2 years old - elementary school students

Period

1 package – 5 days   2 packages – 10 days
In 3 months from July 2018 to September 2018
You can choose which days at your convenience.

Time

A child can go to school on a day that is not a regular student or a school day.The target age is from 1 year old and 6 months to elementary school students.

Fees

1 package 2- 3 years old ¥ 47,000  4- 5 years old ¥ 45,000
6 and over ¥ 43,000
All the packages included insurance premiums, admission fees, transportation expenses and school materials

Things to bring in school

1) Water bag set (rash guard short sleeve front zip shirts, swim trunks, wrap towel and water shoes)
2) Backpack 14 L or more (lunch box, lunch bag, drink bottle over 500 ml, running shoes, inside shoes, extra clothes, extra socks , hat with chin strap, toothbrush and cup )


Service

Brothers/sisters discount, extended classes discount, after 6 days discounted more than 2 courses etc. If you think for long term course, please contact us.